Cilantro Chicken Burgers
I found several packages of ground chicken on sale and brought them home. My hope was to duplicate a cilantro chicken pattie that I had purchased from Trader Joe's a while back. They were great and I loved having something protein packed that I could quickly make. While they may not taste exactly like the ones from TJ's they are still quite good.
Cilantro Chicken Burgers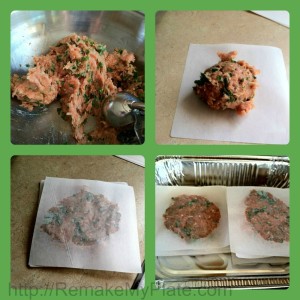 Cilantro Chicken Burgers
Author:
Penny @ Remake My Plate
Prep time:
Cook time:
Total time:
Keep extra burgers in the freezer so you can whip them up in a snap.
Ingredients
1 pound ground chicken
½ cup chopped fresh cilantro
1 tablespoon soy sauce
2 teaspoons garlic powder
2 teaspoons black pepper
2 teaspoons lime juice
1 teaspoon ground ginger
2
Instructions
In a large bowl mix the ground chicken, cilantro, soy sauce, garlic, black pepper, lime juice and ginger.
Form into four patties.
Cook in a skillet that has been sprayed with nonstick cooking spray. Cook until the centers are no longer pink, approximately 4 to 5 minutes and the internal cooking temperature is 160F.
If your doubling or tripling the recipe to freeze extras do NOT cook. Follow these directions instead:
Use your hands to form into patties. Or use an ice cream scoop to remove some of the mixture.
Place mixture on sheets of waxed paper. Place another sheet of waxed paper on top and press down to form a pattie.
Stack the patties and place in freezer until firm. Place frozen patties into plastic freezer bags (don't forget to make it with the date and the name) and store in the freezer for up to 6 months.
People have asked how to tell when chicken patties are done cooking. The easiest way is to use a thermometer and check the internal temperature of the pattie. Chicken is properly cooked when a thermometer inserted into the center reads 160F. Check out the
Food Safety site
for the safe minimum cooking temperature for all meat, seafood, eggs and casseroles.
These burgers taste great alone or topped with a bit of ranch dressing, lettuce and slice avocados.
Pass on the bun and serve this burger over a salad for a great low carb meal.