Exciting News For This Semester
For the last few years I have been attending college in hopes of changing careers. Who knew that when I had gastric bypass surgery almost 9 years ago that it would affect so many other things besides what I weighed. Several years after having surgery I decided to return to school. Having worked as a nurse for many years it was time for a change. Since having surgery I began to connect nutrition to many of the medical issues that I had seen with my patients. I wanted to make a difference in people's lives before they got to the point that they needed care from a nurse. I returned to school to pursue a degree in nutrition with the hopes of becoming a registered dietitian. This would require not only a degree in nutrition but also an internship before you are able to sit for the licensing test.
If you know anyone who is a dietitian ask them about their internship. Or at least the process of obtaining one. It's very long and the competition is incredible. It's estimated that only about 50% of graduating students are able to get into one. The school I attend offers an internship program with a very limited number of spots. I applied in the spring and was put on hold until all the spring and summer grades were in. This past Thursday I picked up this letter at the nutrition office: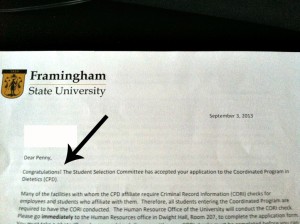 YES! I got into the program! I will be starting one of my first internships this semester and will spend time over four semesters getting in 1,200 internship hours. Who knew that WLS would one day lead to a whole new career!