Mexican Chicken Meatball Soup
Is your freezer like mine? Do things get put in there only for them to get sucked into the freezer black hole. You know the one where you never seem the food until it suddenly reappears a year down the road? Do you stare at the unmarked container or bag and wonder "why did I freeze this? Better yet….what is it and what in the world am I going to do with it"?
You can avoid the freezer black hole by 1. NEVER put anything into the freezer without marking it with what it is and a date and 2. Go through the freezer at least once a month to see what you have and make plans to use it. One way I try to avoid mystery packages is to double bag things. Not only does it cut down on freezer burn but it allows me to put a small index card with the item name and date in between the two bags. Going through the freezer on a regular basis keeps things from being pushed to the back and helps to refresh my memory of what I have in there waiting to be used.
While going through the freezer I came across a bag of frozen meatballs…unmarked of course so I already broke the first rule. Thinking back I remembered making Cilantro Chicken patties and then using some of the mix to make meatballs for another recipe. Hmmm…..I might just have a use for those in a batch of soup. You can easily use store bought chicken or turkey meatballs (beef too!) but homemade always tastes better to me.
Mexican Chicken Meatball Soup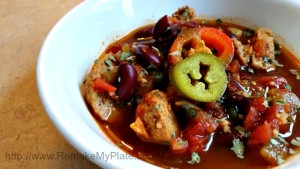 Mexican Chicken Meatball Soup
Author:
Penny @ Remake My Plate
Prep time:
Cook time:
Total time:
Garnish the soup with additional chopped cilantro, tortilla strips, diced avocado, sour cream, jalapeno slices or shredded cheese.
Ingredients
1 pound Chicken meatballs (homemade or store bought)
1 tablespoon olive or canola oil
1 large onion, chopped
3 cloves garlic, minced or 2 teaspoon dried garlic
1 - 4 ounce can green chilies, chopped
1 - 15 ounce can diced tomatoes
4 cups of chicken broth
1 tablespoon chili powder
1 tablespoon fresh cilantro, chopped or 2 teaspoons dried cilantro
2 teaspoons cumin
salt, pepper and hot sauce to taste
Instructions
In a 4 to 6 quart stockpot heat the olive or canola oil. Add the onion and garlic and cook until softened.
Add in the tomatoes, green chilies, chicken stock, chili powder, cilantro and cumin.
Add in your chicken meatballs.
Simmer for 15 to 20 minutes.
Add salt, pepper and hot sauce, if desired, to taste
Serve topped with your favorite garnishes
 The soup in the picture also contains kidney beans. The one thing I love about soup is it's ability to have extra items added in and it always tastes great! I had half a can of kidney beans in the refrigerator from a previous meal/recipe and decided they would make a perfect addition to the soup. You could easily add in a can of your favorite bean when you add in the meatballs.
Have a favorite soup recipe? The weather is getting cooler and I'd love to see what other people enjoy making at this time of the year. Why not leave a comment below with a link to a recipe you enjoy making.