You Call This A Low Carb Biscuit?
I am a student member of the Academy of Nutrition and Dietetics as well as the DCE Diabetes Care andEducation Community Group. This means that each month I receive several nutrition related journals. Sometimes I have received magazines on health related topics provided by publishers to the members of the AND. This month I was sent a copy of Better Homes and Garden's Diabetic Living. It's interesting to see some of the health related magazines that people buy. This one caught my eye because it was sporting this on the front page (look at where the arrow is pointing: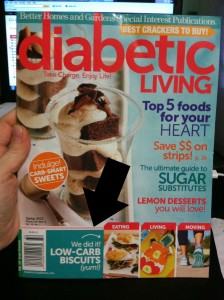 Hey…..I'd love to make a low carb biscuit! I quickly turned to the recipe only to see this: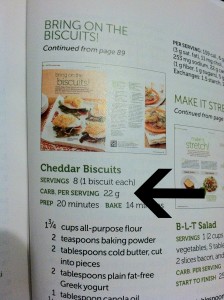 What !?!  22 grams for a small biscuit? How exactly is that low carb? Here's what I had to say: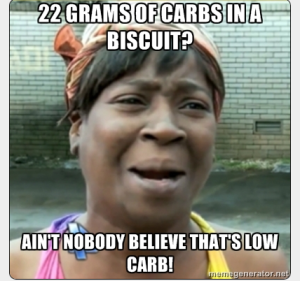 Want to make a real low carb biscuit? First check out this page for the low carb bake mix recipe. Then go to this one for the actual biscuit recipe….scroll past the first recipe for a bake mix made with flour.
Their recipe: 22 grams of carbs.
My recipe: 9 grams of carbs. That's what I would call a low carb biscuit recipe.
Got a favorite low carb biscuit recipe? Leave a comment below and include a link.