What I Ate Wednesday #11 – The Pumpkin Edition
Sadly I have missed participating in the last couple of WIAW linkups. My life has been filled with work, sleep and school. Sometimes I barely manage to squeeze in the sleep part. Now that I've dug out of several projects all due at the same time I'm hoping to post a little more frequently starting with another WIAW. Looks like this month has a Halloween theme:
Here's this weeks WAIW starting with breakfast:
If I want my eyes to be open then coffee is a must especially with getting up at 5:15 or so. Daily vitamins, right now anyways, includes a mutltivitamin, iron and vitamin C. I also take calcium and vitamin D later in the day with water. The reason for this is calcium absportion is reduced when taken with coffee so I take it in between cups. I also pair my vitamins with a vitamin helper (one vitamin/mineral that helps another to be more easily available for the body to use….also called bioavailability). In this case vitamin C helps the iron to be better absorbed. The same thing goes with calcium and vitamin D. A good thing to keep in mind since this same concept can work with food! Include a bit of citrus when eating spinach salad topped with a bit of beef. The vitamin C in the citrus will help the body absorb the iron in the spinach/beef. Pretty cool eh?
Time was running short so I whipped up a microwaved scramble egg with a handful of diced broccoli (from yesterdays supper) and topped it with some shredded mozzarella cheese. Doesn't look pretty but it tastes good:
Usually I prepare a nice packed lunch the night before school. I had forgotten 🙁 As I gazed into the refrigerator and didn't see the lunch I had to quickly toss something together. Getting out the door on time is important when I comes to battling traffic in and around the Boston area. With no time to spare I tossed a couple of things into my backpack. Just enough to keep me going until I got home for an actual lunch. Here's what I ended up with….don't laugh:
No weird comments please…..it's a bratwurst! Got to clean out the leftovers some how AND keep my blood sugar levels stable at the same time. Before WLS I would have had lots of stuff that made it easy to grab food on the run: granola bars, muffins, toast, sandwiches, more muffins, cookies, etc. Can't do that stuff now. So a brat for the protein and fat to keep me steady and the apple for some carbs and it's yummy deliciousness.
Finally returning home I was able to whip together something for lunch or maybe it was lupper since it was past lunch but not quite supper. Anyways, here's what I had:
Mixed greens, diced red pepper, carrots, some ham and a diced cheese stick salad. Red pepper hummus and more red peppers on the side. I'm showing you the one I packed for lunch for tomorrow. The salad I ate was just on a plate and the hummus and peppers were basically eaten while I prepped these.
Supper for the family included this frittata: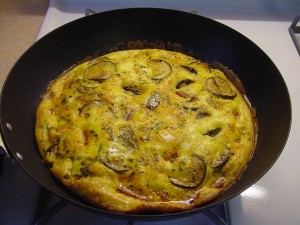 Another clean out the refrigerator special. Only had a small slice of this since I had eaten lunch a little on the late side. Plus I wanted to save some room for this: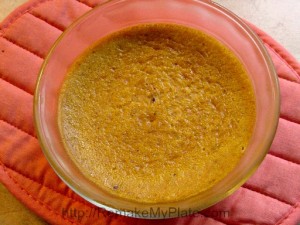 Pumpkin custard! I made this for the monthly Recipe Redux challenge and have been able to enjoy the whole batch all by myself. The family does NOT like custard especially when made with pumpkin. Glad they don't know what they are missing!
Can't wait to visit and see what everyone else ate for this weeks WIAW.