What I Ate Wednesday 5
August 8, 2012

Filled under

WIAW
Time for another addition of What I Ate Wednesday. This month's theme is:
 Breakfast included a cup of coffee (no I didn't actually have coffee in a thermos…..just reusing a picture) along with sauteed kale, onions and peppers (from the freezer) topped with an egg. You can't actually see much of the egg because there is a slice of Trader Joe's cheddar and chive cheese topping it. Also included are 2 small sausage patties.
Lunch was this incredible homemade tomato soup with a buttered slice of bread.
The soup is actually suppose to be Tomato Peanut Soup but I don't really taste any of the peanut butter that was added. Perhaps it was because I used home canned tomatoes instead of store canned. The home canned stuff always tastes soooo much better. Canning my own tomatoes is one of the end of summer staples that we can't do without. Locally grown tomatoes are available from several nearby farms. Multiple cases, weighing somewhere in the neighborhood of 25 to 30 lbs each, keep us supplied in homemade salsa, tomato sauce and diced tomatoes for the coming year. Labor and time intensive…yes. Rich, vibrant tomato taste unlike anything you can find in your grocery store….oh, hell yes! That's the main reason I put the effort in to do it and why farm fresh tomatoes are one of our summer staples.
Snacks include this handful of mini cookies:
Then, later in the day, some mandarin oranges (packed in fruit juice):
Supper included cuban sandwiches (ground pork patty topped with smoked ham, swiss cheese, pickles and mustard). Since I already had eaten quite a few carbs today I turned mine into a salad.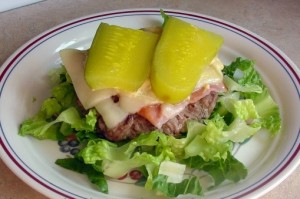 That was it for today's food. I'm looking forward to checking out what everyone ate for the day.