Weight Loss Surgery Book Reviews
It's hard to believe that I have nothing school related to do until my summer class begins in July. Rather than sit around when I'm not working and watch TV I thought I might finally have a chance to check out the growing number of weight loss surgery related books that are currently on the market. Two days after I had sent in my inter-library loan request I received an email telling me a book came in. The following day I stopped by to pick up the book and discovered I now had a stack of five books waiting for me.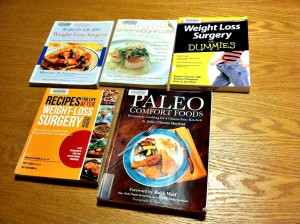 Here's the books I picked up to check out. Can't wait to review them and test some of the recipes out.
Weight Loss Surgery For Dummies
Recipes for Life After Weight-Loss Surgery, Revised and Updated
Eating Well After Weight Loss Surgery
Recipes for Life After Weight-Loss Surgery
Hmmm….this looks like it is the first version that was published. Guess I didn't realize it because I also picked up the revised and updated edition. It will be interesting to see what additional material was added.
Paleo Comfort Foods: Homestyle Cooking in a Gluten-Free Kitchen
Sure it's not specifically weight loss surgery related but I find that paleo books have many recipes that are quite WLS friendly.
Well these should keep me busy for a little while. Can't wait to dig into them! Got a favorite weight loss surgery related book? Please leave a comment below. I'd love to hear of books that other people think are worth checking out.