The BEST Honey Cashew Butter Ever!
Our family loves peanut butter. I'm sure they would love other nut butters as well but I never buy them. They cost a small fortune compared to peanut butter. The jars of the other nut butters are also half the size of peanut butter. With the way my kids eat the stuff I'd have to get a second job just to pay for nut butter.
I've heard of people making their own peanut butter but always thought that it took some kind of special grinder. Thankfully Stacy over at Delighting In The Days posted a recipe for homemade peanut butter made in a food processor. I don't have a food processor but I do have a blender. They are kind of similar right? At least I hoped so because her recipe was so incredibly easy that I wanted to give it a try. I didn't have peanuts on hand but I did have a can of roasted cashews.
Honey Cashew Butter
2 cups of roasted cashews
1/3 to 1/2  cup of virgin coconut oil, melted
1 to 2 tablespoons of honey
1 teaspon salt (I omitted this because my cashews were already salted)
Note: If using a blender it's best to slightly chop or grind the cashews before adding the other ingredients. After playing around for several minutes I found that tossing the full amount of nuts into the blender only caused it to clog up. I had to keep turning the covered blender upside down in order to move the nuts around so they all got chopped evenly. When I do this again I will start with smaller amounts before adding other ingredients.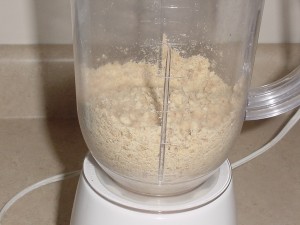 If you click on the picture above it should enlarge it. You can see that the nuts in the center of the blender are not getting chopped. The nuts at the very bottom are finely ground. By the time I realized what was happening the nuts at the bottom had turned into a paste. I had to dump everything out and use a spoon to get everything out of the bottom.
Add 1/2 cup of cashews to your blender and, using the pulse button, pulse the nuts several times to chop them into smaller pieces. Pour the chopped nuts out into a bowl. Continue to chop 1/2 cup of nuts at a time until they are all chopped.
Once all the nuts are chopped return them to the blender. Add in 1/3 cup melted virgin coconut oil and 1 to 2 tablespoons of honey. Start with the smaller amount, taste and add more if desired. Since I try to avoid eating added sugars (yes, honey is a natural sugar) I stuck with the 1 tablespoon. It gave it just a bit of a sweet honey taste. You might prefer or be able to tolerate more. If so, then add an additional tablespoon.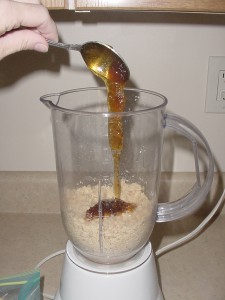 Start pulsing the blender again so everything will begin mixing. Once the nuts no longer look like they are sticking to the very bottom of the blender you can set it to liquify (or some other similar setting on your blender). If the nut mixture is dry you may need to add a bit more coconut oil. I started with the 1/3 cup  and then added in a bit more to get it to the consistency I wanted. You can do the same.
Taste your cashew butter. If desired add a bit of salt. Everything usually tastes too salty to me so I skipped this step. Pour your nut butter into a container and store in the refrigerator. It will solidify once it is cool but, due to the low melting point of the coconut oil, it softens pretty quickly once removed.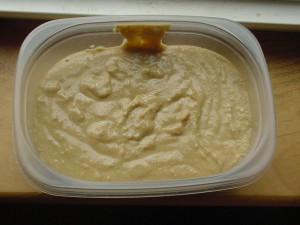 Use a spoon, spatula or even your fingers to get every last bit of the cashew butter from the inside of the blender. This is best done standing over the kitchen sink while telling everyone in your house "oh my this is soooooo good".
This recipe is paleo/primal. For those watching carbs for health reasons (diabetes, reactive hypoglycemia, etc) please remember that honey is a sugar and does contain carbs.
Do you make your own nut butters? Which nuts do you use and what kinds of things do you add to your butter? Chocolate? Spices?
This recipe is being shared at Fight Back Fridays and Real Food Wednesdays.