Spinach, Tomato and Cheese Egg Muffins
Instead of making one big frittata I went with individual egg muffins. Bad idea. Even though the muffin pan was well greased they stuck to it making them difficult to remove. Next time I'll just stick to the frittata and cut it into pieces instead. They still taste great though so all was not lost.
Spinach, Tomato and Cheese Egg Muffins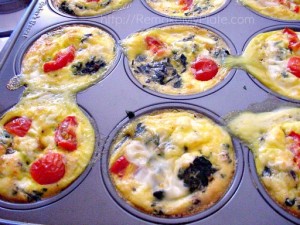 1 1/2 cups of frozen spinach, thawed and squeezed
1 container of grape tomatoes, cut into quarters
4 ounces feta cheese, crumbled
4 basil leaves, thinly sliced
10 eggs
1/3 cup milk or your favorite milk replacement
salt and pepper to taste
Preheat the oven to 375 F.
Grease the inside of your muffin tins with olive oil or nonstick spray. Divide the spinach, tomatoes and feta cheese up among the muffin tins.
In a bowl combine the eggs, basil and milk. Whip until well mixed. Add salt and pepper to your taste. Pour over the vegetable mixture in the muffin tins until the mixture reaches the lip of the tin. Bake for 15 to 20 minutes or until the centers are set. Remove and allow to cool.
Then, if your as unlucky as I was, spend the next few minutes fighting to get the egg muffins out. Then spend even longer attempting to clean the pan. Seriously contempt just throwing it out rather then spend even more time cleaning it to get out all the bits. Sigh.
Perhaps I should have tried to remove them while they were hot. They still tasted great even though they were not pretty to look at after I got them out. They will make a great grab and go breakfast item. You can warm them up or eat them cold. They taste great either way.
Have you made egg muffins before? Got any tips on how to remove them without a fight?
FREEZER TIP: while I've seen people post about freezing cooked eggs or egg muffins I personally don't like to do it. The eggs seem to take on a sponge like texture once frozen and then rewarmed. Before freezing a whole batch of anything egg based try freezing one piece for a week to see how it works out for you.