Recipe Remake – Low Carb Cole Slaw
I love coleslaw! The slight sweet but tangy dressing goes so well with the crunchy texture of the cabbage and carrots. What I don't like about store bought coleslaw is the amount of sugar in their dressing. I made due with store bought because I always thought that making it myself would be a pain. Since I'm trying to avoid added sugars whenever possible I thought perhaps I should give this at least one try. I'm glad that I did. Homemade beats out store bought any day of the week! It's also super easy to make. If I had a larger food processor that could shred the cabbage for me it would be even easier. More ideas on recipe remakes are listed below.

Low Carb Cole Slaw
This low carb cole slaw is great any time of the year.
Ingredients
1 head of green cabbage
2 to 3 carrots
⅔ cup mayonnaise
⅓ cup unflavored Greek Yogurt
¼ cup Splenda or sweetener of choice
¼ cup cider vinegar
2 tablespoons of Dijon mustard
Instructions
Start by cutting the cabbage in half. Remove the core and wash it well. Also give the carrots a good scrub too. Set the cabbage aside and allow the water to drain out.
Using a hand grater or a food processor shred the carrots and place in a large mixing bowl. Shred the cabbage in the food processor if you have one. I don't have one big enough to put cabbage in so I just sliced it thinly with a knife.
In a bowl mix the granulated sugar and the cider vinegar together. Stir until most of the Splenda has been dissolved. Add the mayonnaise and Dijon mustard. Mix until well blended. Pour the dressing over the cabbage/carrot mix and stir to coat. Transfer the coleslaw to a large container with a cover. Or simply cover the mixing bowl with plastic wrap. Chill in the refrigerator for a few hours before serving.
Cut the cabbage head in half and core.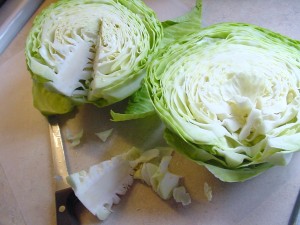 Add in shredded carrots.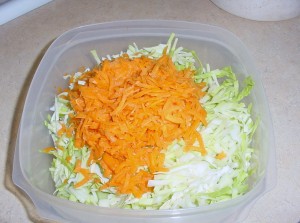 Toss with dressing and enjoy!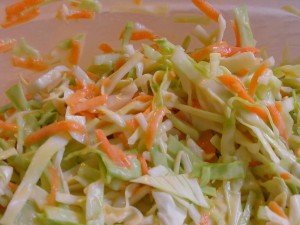 I used Nutrition Data to calculate the stats on this recipe. If you use a large cabbage and 3 carrots along with light mayo (what I had on hand at the time) this is what 1/8 (almost 2 cups of coleslaw!) of the recipe works out to be:
Calories: 163
Fat: 13 grams
Total carbohydrates: 8.6 grams
Fiber: 3.3 grams
Sugar 1.3 grams
Protein 2.6 grams
The stats on some store bought coleslaw had 15 grams of sugar in just a skimpy 1/2 cup serving!
Recipe Remake Tips:
– Don't want to be bothered chopping? Replace the cabbage and carrots with 2 bags of preshredded coleslaw mix such as Dole brand.
– Looking to cut some of the fat? Regular mayonnaise can be replaced with low fat mayo.
– Splenda can also be replaced with the sweetener of your choice – honey, stevia, table sugar, etc. But remember it will increase the amount of carbs and which in turn will affect blood sugar levels in those of us with metabolic related problems (diabetes, reactive hypoglycemia, etc)
– This recipe makes a HUGE batch of coleslaw which makes it great for serving at cookouts but not so good if your only feeding a handful of people. The recipe can be easily cut in half. Leftovers will stay good in your refrigerator for up to 7 days.
Got a favorite coleslaw recipe? Share a link to it or leave a comment about it below.