Recipe Redux – Pumpkin Custard
It's time for this month's Recipe Redux dietitian blogger cooking challenge. Each month a different theme is presented and we must come up with a food related to that theme. This month's challenge: Orange You Glad It's Fall? featuring foods made with the autumn color of orange. Vegetables that have an orange color are a giveaway that they contain the antioxidant beta-carotene. This is a plant caroteniod that is converted to Vitamin A.
While there are many orange vegetables out there (carrots, sweet potatoes, various types of squash, sweet peppers, etc) the main autumn vegetable that sticks out in my mind is PUMPKIN!
While I no longer eat pumpkin pie since having WLS 8 years ago I have a new found love of pumkin custard. When I first began baking custard I had to make a few changes to all of the recipes I found. Most used milk or some type of cream and sugar. Both of these items are a sure recipe for a hypoglycemic reaction for me. I replaced the milk/cream with almond milk and the sugar with Splenda for Baking. The addition of pumpkin firms the custard up and gives it a texture that reminds me of pumpkin pie.
PUMPKIN CUSTARD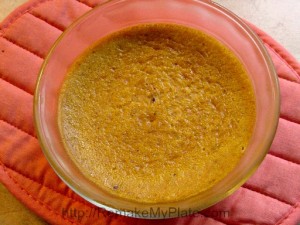 Pumpkin Custard
Prep time:
Cook time:
Total time:
The smooth texture of this custard makes it great for any stage of WLS. Or for anyone looking for a delicious dairy free, low sugar custard to enjoy. The vitamin fortified almodn milk is lower in carbs than regular milk making it great for diabetics and those who maybe following a low carb diet.
Ingredients
4 large eggs
2½ cups almond milk
½ cup Splenda for Baking
1 cup canned or fresh pumpkin
1 teaspoon vanilla extract
½ teaspoon ground cinnamon
⅛ teaspoon ground nutmeg
pinch of salt
Instructions
Preheat oven to 350 F.
Place 6 custard cups or ramekins in a large pan and set aside.
In a large bowl whisk together all the ingredients.
Divide evenly among the custard cups.
Pour enough hot water into the bottom of the large pan so the water level is about half way up the side of the custard cups.
Bake for 25 to 35 minutes or until the custard is set in the center and when a knife is inserted it comes out clean.
Remove the custard cups carefully from the water bath and set aside to cool.
Serve chilled.
Notes
- Use canned pumpkin (nutrition label says pumpkin only with no added sugars or other ingredients). Homemade pumpkin puree can also be used. - Almond milk can be replaced with regular milk or a combination of milk, cream or evaporated milk. This will change the number of carbs due to the lactose (milk sugar) present in those types of milks.
This custard can also be made using mashed sweet potatoes. Looking for a plain custard? Omit the pumpkin, cinnamon and nutmeg and increase the vanilla extract to 2 teaspoons to make a wonderful vanilla egg custard.
Mmmmm….pumpkin! Why not stop by and check out some of the other great Orange themed recipes posted below: