Pumpkin Tortilla Soup
It's that time of year when you can find just about every type of food made with pumpkin. I don't know about anyone else but I don't just wait until fall to eat pumpkin. I use the stuff year round. Now is a great time to stock up on cans of pumpkin since they frequently go on sale especially as we get closer to Thanksgiving.
Did you know that canned pumpkin is loaded with vitamin A? It even has more then fresh pumpkin. Check this out: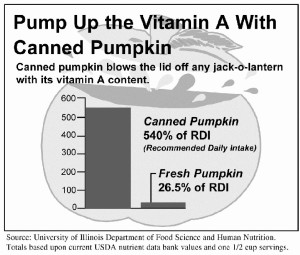 Who knew that 1/2 a cup of canned pumpkin packs a whopping 540% of the recommended daily intake of Vitamin A! Fresh pumpkin only has 26.5%. Make sure when you buy canned pumpkin that is says 100% pumpkin and pass on the pumpkin pie filling which is loaded with sugar. Once you pick up a few cans why not make this great pumpkin tortilla recipe.
Pumpkin Tortilla Soup
Pumpkin Tortilla Soup
Author:
Penny @ Remake My Plate
Prep time:
Cook time:
Total time:
Ingredients
4 corn tortilla (6 inches in size)
2 tablespoons olive oil
1 small onion, finely chopped
1 clove garlic, minced
½ cup finely chopped cilantro
1 teaspoon cumin
1 - 15 oz can 100% pumpkin
1 - 14.5 oz can petite diced tomatoes
4 cups chicken or vegetable stock
salt and pepper to taste
Instructions
Cut the tortillas into small ½ inch sized pieces.
In a large stock pot heat the olive oil over medium heat. Add the onion, garlic and tortilla pieces. Stir frequently while cooking until onion is soft.
Add in the cilantro and cumin. Saute for another minute until cilantro has softened.
Add in the canned pumpkin, tomatoes and chicken or vegetable stock. Stir to combine and simmer for 30 minutes.
Add salt and pepper to taste.
pumpkin photo