Pumpkin Maple Refrigerator Oatmeal
I think that just about says it all. It's that time of the year when people's thoughts turn from the warm, sunny days of summer to thinking about pumpkin and pumpkin spice flavored EVERYTHING! With that in mind decided to turn my regular refrigerator oatmeal recipe into Pumpkin Maple refrigerator oatmeal.
Pumpkin Maple Refrigerator Oatmeal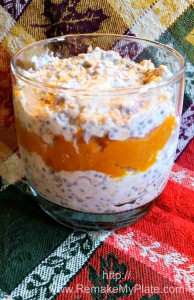 Pumpkin Maple Refrigerator Oatmeal
Author:
Penny @ Remake My Plate
You can also replace the pumpkin puree layer with ¼ cup fresh blueberries.
Ingredients
1 cup uncooked old fashioned oats
1⅓ cup almond milk or milk of choice
1 cup low fat Greek yogurt
2 tablespoons sugar free maple syrup or maple syrup of choice
5 teaspoons dried chia seeds
1 teaspoon cinnamon
For each individual serving you will need:
¼ cup pureed pumpkin
¼ teaspoon cinnamon
½ teaspoon Splenda or sweetener of choice
Instructions
In a large covered container combine oats, milk, yogurt, chia seeds, maple syrup and cinnamon.
Mix well, cover and place in refrigerator overnight.
To make the layered refrigerator oatmeal mix the pumpkin layer but combining the following for each individual serving: pureed pumpkin, Splenda/sweetener and ¼ teaspoon cinnamon.
Place a layer of oatmeal in the bottom of your bowl, cup or container.
Add the pumpkin mixture and top with additional oatmeal.
Serve chilled.