Lately I've been hearing more people talk about eating in moderation. I know I've done it myself. Usually it's been a way to justify eating some type of junk or fast food. Like the day my mother came over to visit and brought fast food burgers and fries as a "treat". She bought cheeseburgers, small fries and diet soda instead of large sized meals and regular soda. It's that whole moderation thing. Super sized meals = bad. Smaller sized meals = good. Or at least better for you. But is it really that simple or is the phrase eating in moderation really becoming a trap that only benefits the fast food and processed food companies?
The fast food companies give us ads to promote their products such as this: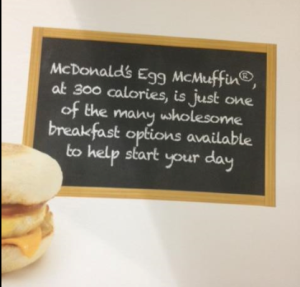 Egg McMuffins wholesome? Really? With an ingredients list like this:
Enriched Flour (Bleached Wheat Flour, Malted Barley Flour, Niacin, Reduced Iron, Thiamin Mononitrate, Riboflavin, 
Folic Acid),  Water, Yeast, High Fructose Corn Syrup, Sugar, Wheat Gluten, Soybean Oil and/or Canola Oil, 
Contains 2% or Less: Salt, Calcium Sulfate, Calcium Carbonate, Citric Acid, Calcium Citrate, Yellow Corn Flour, 
Corn Meal, Rice Flour, Barley Malt, Artificial Flavors, Natural Flavors (Botanical Source), Dough Conditioners 
(Ascorbic Acid, Azodicarbonamide, Datem, Tricalcium Phosphate, Monocalcium Phosphate, Enzymes, Calcium Peroxide), 
Calcium Propionate And Potassium Sorbate (Preservatives), Soy Lecithin.
USDA Grade A Eggs.
Prepared with Liquid Margarine: Liquid Soybean Oil and Hydrogenated Cottonseed and Soybean Oils, Water,
 Partially Hydrogenated Soybean Oil, Salt, Soy Lecithin, Mono and Diglycerides, Sodium Benzoate and Potassium 
Sorbate (Preservatives), Artificial Flavor, Citric Acid, Vitamin A Palmitate, Beta Carotene (Color).
Pasteurized Process American Cheese Allergens: Milk, Cream, Water, Cheese Culture, Sodium Citrate, Contains 
2% or Less of: Salt, Citric Acid, Sodium Phosphate, Sorbic Acid (Preservative), Lactic Acid, Acetic Acid, 
Enzymes, Sodium Pyrophosphate, Natural Flavor (Dairy Source), Color Added, Soy Lecithin (Added for Slice Separation).
Canadian Style Bacon:  Pork, Water, Sugar, Salt, Sodium Lactate, Sodium Phosphate, Natural Flavor, 
Sodium Diacetate And Sodium Nitrite (Preservatives).
I'm sort of failing to see the wholesomeness of it all. Sure it's probably better than some of their other breakfast items which are a nutritional disaster but is it really wholesome? Or better? How often would eating something like this count as moderation? A few times a week? Once a week? Does anyone know?
Perhaps the Hershey's company can tell us with their moderation nation thing they have going on.
Given the amount of processed foods that Hershey's produces I have my doubts about them helping us with moderation, health and nutrition.
Perhaps instead of giving these foods the green light when "eaten in moderation" we should begin by giving people the truth first. All the fast food, all the processed stuff isn't healthy at all. Even in moderation. I think that when we keep telling people that it's fine we aren't doing them a favor. It keeps them thinking that what they are doing doesn't affect their health and they put off making changes that could improve the way they feel. Instead of thinking that the Monday through Friday breakfast sandwich (made with egg whites so it's healthy right!) or the afternoon pick me up of a small bag of chips (baked not fried!) or the snack bar whose label says it contains whole grain (healthy again right?) is ok perhaps we need to look at it like it really is……highly processed junk that affects our health no matter what the amount. If we realize it's junk we then may begin asking ourselves do we really want to eat it? Is there a better option?
I'm not the food police and I'm guilty of using the idea of moderation to keep eating junk. I spent a good portion of my life trying to keep eating the processed "bad" foods that I liked by replacing them with less "bad" foods…..in moderation of course. It didn't work out so well. It's sort of like someone trying to justify that smoking a few cigarettes every day is OK because it's better than smoking a pack. These days I've started to just call it what it is…..junk that makes me feel lousy. And, just to prove the point, I barely made it through half the cheeseburger and a couple of fries before my rerouted guts informed me that what I was doing needed to stop. The gut death pains kicked in to remind me that no amount of moderation was going to make the crap that I was eating any better for me.
And everyone else? My husband quickly fell into junk food induced sluggishness and took a nap. Had he been at work and ate this for lunch I'm sure he would have got a coffee and a snack to keep himself awake for the remainder of the afternoon. One of the kids soon complained of a stomachache and another had some bathroom issues a few hours later. My mother called later in the day, once she had returned home, and said her blood sugar was high…..could the hamburger and fries have done this? Yes. Even though it was just a small one. Yes. Ah the price we pay for moderation.
How about you? What do you think of the idea of moderation? Good, bad or it all depends?
« Previous Page
—
Next Page »