If you thought that cooking meals after weight loss surgery had to be boring then this book will change your mind. While some recipes fall under what I would call comfort type foods many others are what you would expect to find served at a fine dinning restaurant.

The book begins with a small section on hints for preparing, cooking and eating. There is nothing here that most likely wasn't covered by your doctor or nutritionist before surgery. This is followed by a section on stocking your pantry and refrigerator. The ingredients listed here are the ones that are found in the recipes which is helpful in keeping items on hand to quickly pull together a meal.
The chapters with the recipes are broken down in a logical order by meal type: breakfast, soup, vegetables, main course, etc. Each recipe includes nutritional information for each serving. It also includes a breakdown of how much would be considered a serving for each type of weight loss surgery. Some of the recipes sound like they would be fussy and time consuming to make but a quick look at the directions reveals that they are quite easy.
The main course section is broken down by protein type. The one surprising thing that I have not seen in other books is the wide variety of proteins used to create meals. You will find the usual chicken, turkey, pork and beef meals but there is also veal, lamb, tofu and a variety of seafood such as swordfish, mussels and catfish.
The book finishes with chapters featuring a variety of desserts as well as sweet and savory sauces. The addition of sauce recipes is a big help immediately after surgery when it seems like every type of protein feels too dry or coarse to swallow. A nice sauce not only adds additional flavor but helps you get in the protein that is needed. Each sauce recipe includes hints such as if the sauce would make a great base for pureed meals. There are also serving suggestions telling you which recipes in the book would go great with that particular sauce.
If your a simple meat and potatoes kind of person this cookbook may or may not work for you. The recipes may be a bit too different than what you and your family are familiar with eating. On the other hand, this book might help to expand your horizons. I think you would be surprised at the many new things you'll start to enjoy since having weight loss surgery. If you already love to cook then this book will be a welcome addition to your cookbook collection.
Got a favorite WLS book? Leave a comment below and let others know which books you found helpful during your journey.
It seems that healthy eating is something of a juggling act. People often turn to premade and highly processed foods because they are fast and easy to make. In order to get the convenience of these foods we often end up with less than healthy ingredients. Choosing options that are seen as healthier (freshly made with healthier ingredients, organic, etc) usually means paying a premium price. Sometimes you can get the best of both worlds (fast and easy without the high cost) by simply making it yourself. Homemade breakfast sausage is one of those things that can be quickly made up, contains no unnecessary ingredients and doesn't cost a small fortune. This sausage also freezes well which means you will save yourself even more time in the future.
Maple Breakfast Sausage
Pass on those premade store bought breakfast sausage patties and links. Make your own. They not only taste delicious but they won't be loaded with lots of artificial flavoring, fillers and other junk.

Maple Breakfast Sausage
Author:
Penny @ Remake My Plate
Prep time:
Cook time:
Total time:
Make a double batch and freeze the extras to make another day. Homemade breakfast sausage is fast and easy to make.
Ingredients
2 pounds ground pork (you can also use beef, turkey or a combination of meats)
2 tablespoons maple syrup
2 teaspoons salt
2 teaspoons sage
1 teaspoon black pepper
½ teaspoon ground nutmeg
¼ teaspoon crushed red pepper
⅛ teaspoon ground ginger
Instructions
In a large bowl combine all the ingredients and mix well.
Form into patties.
If cooking: in a large skillet cook over medium heat until centers are no longer pink
* To freeze: place in a single layer on a cookie sheet and freeze until firm.  If stacking in a double layer to freeze make sure to put a two pieces of waxed paper between the patties (see picture below). This keeps them from freezing together into one large frozen mass. Ask me know I learned this trick 🙂  Placing two pieces of waxed papers between the stacked patties allows them to be easily separated.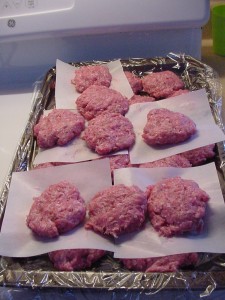 * Wrap frozen patties in plastic wrap and transfer to a freezer bag. Label the bag with the date and the name of what's in the bag.
* To use: remove from freezer and thaw in refrigerator before cooking.
* This recipe can be doubled or tripled easily. It just depends upon how big a mixing bowl you have to work with.
« Previous Page
—
Next Page »