Never Buy A Rotten Avocado Again
My luck with having a perfectly ripe avocado seems to be hit or miss. Sometimes they feel soft enough to be ripe but, once cut open, are a brown disgusting mess inside. Other times I think they might need an extra day or two to ripen but need to use them in a recipe and they turn out fine. The only method I was relying on to test for ripeness was the texture when the avocado was gently squeezed. Not hard but not soft enough to be squishy.
I happened upon this post over at Northwest Edible Life and now I will hopefully never cut into an avocado to discover it is rotten. It seems the best way to determine the ripeness of an avocado is not by firmness but by the color of the skin underneath the stem. If the little piece of stem is removed and the skin under is brown then the inside will also be brown. If the stem is removed and the skin is still a yellow green color then the avocado will be fine. It still may require sitting on the counter for a day or two in order to soften a bit but at least you haven't brought home one that is already rotten.  The next time I'm out shopping I'll see if I can snap my own photos to add to this post. Right now I'm stocked up on frozen avocados. Until then, if you want to see some great pictures of exactly how the avocado should look then check out NorthWest Edible Life's blog page.
Once you have yourself a bunch of avocados then why not check out this post about how to prep and freeze them for future use.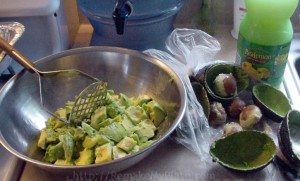 You can also try them in this recipe for avocado and tomato dressing.
How about you? Do you have a great method that you use to avoid buying avocados that are already going bad? Why not share your tip in the comment section below.