Low Carb Pumpkin Muffins
Yesterday the wave of hot weather we have been having finally broke. I thought it would be a good time to bake a couple of batches of muffins before the next heat wave hits. This recipe can be made with either flour or homemade low carb bake mix. Both come out well though the low carb muffins do not rise as high as the muffins made with flour.
LOW CARB PUMPKIN MUFFINS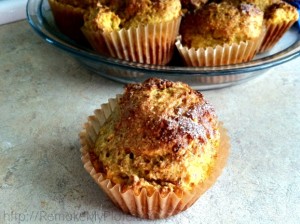 Low Carb Pumpkin Muffins
Author:
Penny @ Remake My Plate
Prep time:
Cook time:
Total time:
This recipe works equally well with several different ingredient replacements. The yogurt can easily be replaced with sour cream. The low carb bake mix can be replaced with flour. The Splenda for baking can be replaced with granulated sugar or brown sugar but this will produce a muffin that is not low carb. If you are looking to make a streusel type topping blend together 2 tablespoons of butter, ¼ cup sugar, ¼ cup flour and ½ teaspoon of cinnamon using your fingers to mix until crumbly. Divide evenly over the muffin batter and bake as instructed.
Ingredients
½ cup butter, melted
¾ cup pumpkin puree
1 cup yogurt (plain or vanilla)
1 cup Splenda for baking
2 cups low carb bake mix (or flour)
2 large eggs
2 teaspoons baking powder
1 teaspoon cinnamon
1 teaspoon vanilla extract
½ teaspoon salt
Instructions
Preheat the oven to 400F and grease your muffin pan or line it with paper liners.
In a large bowl combine the melted butter, pumpkin puree, yogurt, eggs and vanilla extract. Whisk until smooth.
In another bowl combine the low carb bake mix, sugar, baking powder, cinnamon and salt.
Add the dry ingredients to the wet ingredients. Stir until just combined. Divide evenly between the muffins cups. Top with streusel topping (see above for information on making the topping).
Bake for 16 to 18 minutes or until a toothpick inserted into the muffin comes out clean.
Place finished muffins on a wire rack and allow to cool.
The muffins can be made plain or with the streusel topping. They can also be made with a lightly sprinkle of cinnamon sugar on top. I make this by combining a tablespoon of sugar with a 1/2 teaspoon of ground cinnamon. Then I sprinkle a little bit over each of the muffins. The streusel topping and the cinnamon sugar topping will add a few more carbs in. Not much though since it is divided between 12 muffins.
If you choose to use flour to make the muffins they will rise higher than the muffins shown in the picture. Plus they will have nicely rounded tops. The low carb bake mix does not rise as high as the flour based muffins but they still taste just as good.
Store the muffins in the refrigerator or place in a freezer bag and keep them in the freezer until needed.