Low Carb Cuban Sandwich and Salad
Part of my school nutrition experience is to work in some kind of kitchen setting that focuses on food service and management. Basically some type of commercial kitchen that serves meals based on medical/nutrtional needs. I did my 200 hours in a kitchen at a local hostpital. Most of my time was spent helping to assist in some type of food prep, setting up patient meal trays, processing dietary orders, making tray deliveries, etc. There's a separate cafeteria for employees and visitors so a wide variety of hot meals and sandwiches are made every day. They offer a great discount to employees, as well as volunteers and interns, so purchasing a hot meal each day is a nice perk. The only down side is the majority of the meals are not low carb in any way.
All their meals were created by the staff dietitians to be heart healthy. This translates to margarine instead of butter, brown rice instead of white rice, whole grains in place of "bad" meat, egg whites or Egg Beaters instead of real eggs. You get the idea. Most dishes are purposely made to be much higher in whole grains (carbs) and lower in fat and protein.
While I was there I made the best low carb choices from what they have to offer. This was often accomplished by taking extra non starchy veggies in place of rice, noodles and potatoes. I may have bought the wrap sandwich but I ate everything except for the tortilla. Sometimes a particular dish looked especially good but there was really no way to make it low carb. This was the case the day they served up toasty Cuban sandwiches. Sliced pork, ham, swiss cheese, dill pickles, a blend of several types of mustard's on French bread that was grilled to perfection. Buying one and only eating everything except for the bread was one option but it wasn't going to work. Too much bread and not enough filling. So I had to wait and  make a low carb version at home.
Low Carb Cuban "Sandwich"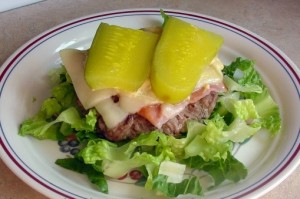 2 lbs ground pork
6 slices Swiss cheese
6 slices Ham
romaine lettuce, shredded or your favorite salad greens
2 dill pickles, sliced thinly length wise into at least 6 pieces
equal amounts of yellow mustard and Dijon mustard, blended  salt and pepper
To make pork burgers: 
Divide each pound of ground pork into three portions (approximately 5 ounces each) and form into patties. If you want slightly smaller patties then divide each pound into four (approximately 4 ounces each) and form into patties. Apply salt and pepper to both sides of the pork patties to your liking and grill. I like to use the George Foreman Grill and they cook up in minutes. Love that thing!
If your cooking on the grill then top each burger with a slice of ham that has been folded to fit on top and a slice of Swiss cheese. Allow the cheese to gently melt.
If your using the George Foreman Grillor something similar I first topped each cooked burger with the ham, closed the grill and let it cook for about 30 to 45 seconds. Just enough to heat the ham. Then I removed the burgers to a plate and topped them with the swiss cheese. The heat from the burger/ham melted the cheese.
Making your Low Carb Cuban:  
Put a handful or two of your favorite salad greens. Top with the pork burger. Smear a good amount of the mustard blend on it and top it off with several pieces of sliced kosher pickle.
Don't want to be bothered using a fork to eat this? Then a whole leaf of Boston lettuce used as a wrapper would make this a low carb hand held meal.
Side Note: yes, I do realize that real Cuban sandwiches are made with pulled pork and not ground. We happen to have some ground pork on hand and went with what we had. This was certainly enjoyed by all family members so I'll be watching for the next sale on pork roasts to make an official Cuban low carb sandwich with pulled pork.
Got a favorite cuban recipe that you use? Leave a link to it in the comment section.
This post shared at: Real Food Wednesdays