Leslie's Soon To Be Famous Chicken Soup
My co-worker Leslie sent around a copy of a chicken soup recipe that she often makes. It was titled Leslie's Soon To Be Famous Chicken Soup. With its classic chicken soup taste and a touch of flavors from her current home state of Texas I think she just might be right. It is soon to be famous. It already is popular in my house and perhaps it will be in yours as well.
LESLIE'S SOON TO BE FAMOUS CHICKEN SOUP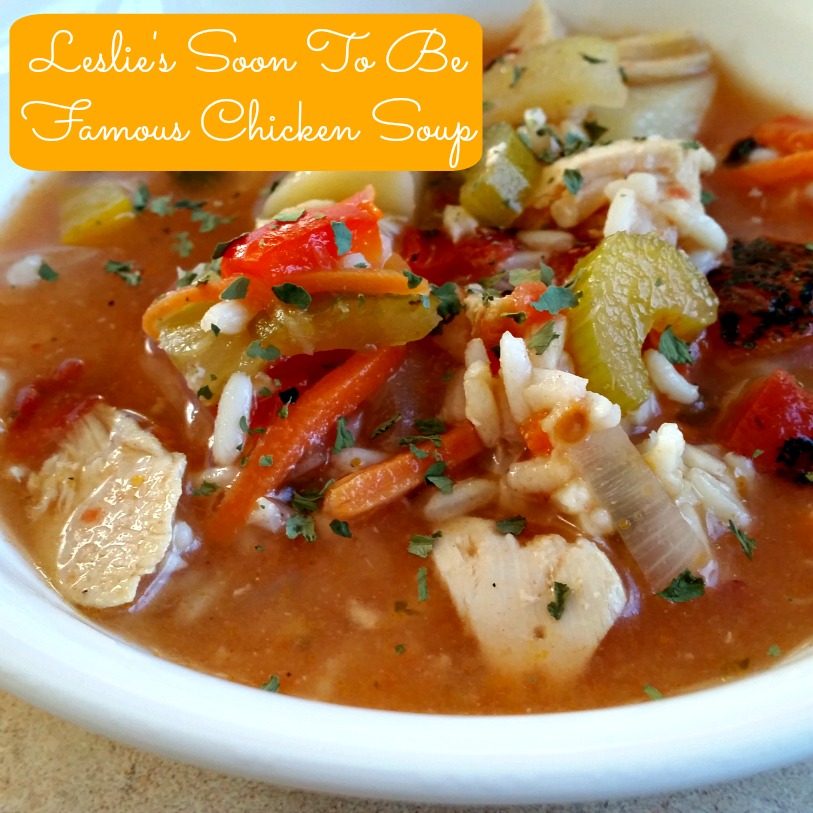 Leslie's Soon To Be Famous Chicken Soup
Author:
Penny @ Remake My Plate
Prep time:
Cook time:
Total time:
This makes a huge pot of soup. Be prepared for leftovers. You can substitute cooked chicken for the boneless chicken if desired. If you are using minute rice add it last. I've also added a half of a package of
store
bought shredded carrots in place of the diced/baby carrots.
Ingredients
1 medium onion, chopped
1 red bell pepper, chopped
2 large carrots, chopped or about 15 baby carrots cut in half
3 stalks celery, chopped
1 tablespoon vegetable oil
2 cloves garlic, minced
1 - 15 ounce can Rotel tomatoes or diced tomatoes
¾ cup rice
1 -2 jalapenos, finely minced
2 to 3 potatoes, peeled and cubed
3 - 32 ounce containers chicken broth
16 ounces boneless, skinless chicken, diced
½ teaspoon pepper
2 teaspoons cumin
¼ cup minced cilantro
juice of one lime
salt to taste
Instructions
In a large pot heat vegetable oil and add onion, celery, carrots and red pepper.
Cook for approximately 5 minutes. Add garlic and cook for another 2 minutes.
Add chicken broth, diced chicken breast, potatoes, tomatoes, jalapenos, rice, pepper, cumin and cilantro.
Cook until the potatoes and carrots are soft.
Add in lime juice and salt to taste.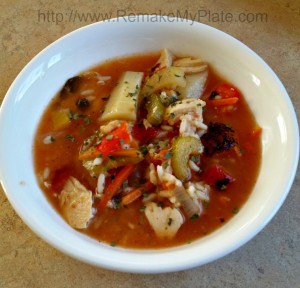 This is amazingly good soup. It has a nice amount of protein to help keep me feeling full. Want to make it vegetarian? Replace the chicken broth with vegetable broth and the diced chicken with black beans. It's just as delicious.  Give this recipe a try and let me know if you like it. I'll make sure to tell Leslie that her soup is a hit in other houses as well my own.