How To Freeze Avocados
I love using avocados in recipes such as dips and dressings. Since they are usually used mashed up I discovered that they can be prepped ahead of time and stored in the freezer until needed. Not only does this save me a bit of time but it's a great way to save some money. Living in the northeast means that avocados are cheaper at different times of the year depending upon the location where they were grown. When they are not on sale a single avocado can cost as much as $2. During sales they drop to $1 each or even 2 for $1. That's the best time to stock up. Here's how I do it:   Start by slicing each avocado in half then gently twist to pull apart. The seed in the middle can be scooped out with a teaspoon. Using a knife, carefully score the avocado and use a spoon to scoop the cut pieces out of the peel/skin. Place them in a large bowl (shown in the photo below).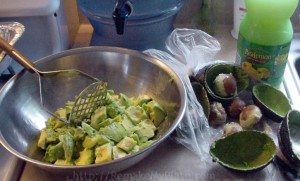 I have 6 avocados all chunked up and ready for mashing in the bowl above. Add 1 tablespoon of lemon juice for every two avocados you are using. This will keep the mashed avocados from turning dark and brownish. The color change doesn't affect the taste  but they just don't look as nice.  Add the lemon juice to the bowl and mash the avocados: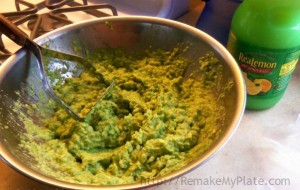 If you have small plastic containers the mashed avocado can easily be divided between them and placed in the freezer. I don't have containers that small so I use plastic bags. The easiest way to package the avocado up is to first roll down the zip lock top of the bag. This prevents bits of avocado from getting in the seam of the zip lock preventing it from closing correctly. Add in your avocado, gently push the extra air out and seal the bag. You can add any amount to each bag. I usually freeze about 2 avocados worth in each bag. So I got 3 bags out of the bowlful above.
The avocados are all ready to be tossed in your freezer. I usually stick several bags inside of a gallon sized freezer bag so they don't get lost in the back of the freezer. Stick a piece of paper into the bag so you know what's in there and the date you packaged it. Avocados keep well in the freezer for about 6 months. As time goes on their bright green color may dull a bit but they are still fine. To use a bag just remove it from the freezer and defrost in the refrigerator.   Looking for a recipe that uses mashed avocados? How about my Avocado and Tomato Dressing? It's basically a pourable version of Guacamole. We use it on tacos, fajitas, sandwiches and salads. It also makes a delicious vegetable dip too.