Homemade Caesar Salad Dressing (egg free)
Last semester one of my nutrition classes included a lab where we prepared various foods. Sometimes each group was assigned the same recipes but the ingredients were varied so we could see how it affected the final product. Our first cooking lab was snickerdoodles with various replacements: flax instead of eggs, whole wheat and gluten free flour mix instead of white flour, different sweeteners instead of granulated sugar, etc. Pretty interesting to see how much the cookies changed when using different things.
As the semester went by one of our big projects was to demonstrate a healthy recipe that could be quickly prepared by busy families. Sounds easy enough until you add in the fact that it needed to be started and finished in 10 minutes or less. To make it even crazier we had to pass along several nutritional tips as well as food handling/preparations tips as well. The whole thing made me realize that the 30 minute cooking shows we see on TV take a whole lot longer than 30 minutes to actually do. The prep work on the food along (all done before the demo even starts) takes up a lot of time.
My partner and I thought about our demo quite a bit. We talked about what our potential busy family would be like and how we could improve the meal that they ate. Perhaps they had several kids and needed to take them to after school activities. Maybe they didn't get home until early evening (6 to 7 pm) and hitting the drive through of a fast food joint is what they would do to save time. Then we thought about how we could save them some money as well as time. In the end we decided on a chicken caesar salad with homemade croutons and dressing. Time was saved by using rotissere chicken sold at most grocery stores. The dressing could also be made well ahead of time which would help save more time. Our thinking was the time to shop and prepare this meal was no longer than making a trip through any fast food restaurant. Bonus points for the fact that it was a much healthier option.
Here was our remake of casear salad dressing made without the eggs. The bit of dijon mustard added helps to emulsify the oil which is what adding a raw egg does in the dressing. We reduced the amount of olive oil and parmesan cheese without changing the flavor. The original dressing called for several anchovy fillets which we replaced with anchovy paste (found in the same section as the canned anchovies) so there would be no need to figure out what to do with the leftover fish.
Homemade Caesar Salad Dressing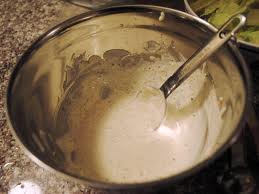 2 cloves of garlic, minced
1 tablespoon lemon juice
2 teaspoons Dijon mustard
1 teaspoon anchovy paste
1 teaspoon Worcestershire sauce
1/3 cup extra virgin olive oil
salt and pepper to taste
In a bowl whisk together the anchovy paste, Dijon mustard, Worcestershire sauce, lemon juice and garlic. Slowly add the olive oil whisking after each addition. Add the parmesan cheese and mix. Add salt and pepper to taste.
Chicken Caesar Salad
2 hearts of romaine lettuce
1 rotissere chicken or other premade/precooked chicken
6 inches of french bread
2 tablespoons of olive oil or cooking spray
1/2 teaspoon garlic powder
Preheat your oven to 400 F.
Prepare the croutons by slicing the french bread into 1 inch pieces. Place in a bowl and drizzle the olive oil over them and mix well. You can also use an oil based cooking spray and spray a light coating over the pieces of bread. Sprinkle the garlic powder over the bread and mix again. Place on a baking sheet and bake for 8 minutes or until lightly browned.
Prepare the chicken by removing the breasts and cutting into small pieces. The remainder of the chicken can be placed into the refrigerator to be used for another meal (ex: chicken salad or even chicken soup).
Prepare the lettuce by cutting the bottom part of the stem off, separating the leaves and rinsing off any debris. Chop the lettuce and place into a large bowl. Top with the chicken and croutons. Pour the dressing over and toss to coat. Enjoy!
Other time saving tips: almost the entire meal can be prepped and left in the refrigerator until needed. Children who are old enough to handle a knife can be encouraged to help prepare the meal. It's a great introduction to cooking and also a nice way to have some family time. The rotissere chicken can be replaced with home grilled chicken breast or something like the Perdue chicken shortcuts which are found in the refrigerated section of the grocery store. Personally I'd stick with homemade chicken but having options is always a good thing.
What kind of quick meals do you make when it seems like a drive through meal is all you have time for?
Shared @ Fight Back Friday, Real Food Wednesday