Finding A Local Farmer's Market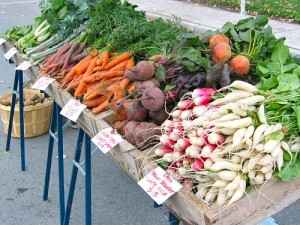 Can't wait. My local farmer's market will be opening this weekend. Besides farm fresh veggies and native strawberries, which are finally in season, my local market has a wide variety of products available. There's locally made cheese, eggs from free range chickens, grassfed beef and pastured pork. There is a vendor offering freshly caught fish and shellfish, several with baked goodies (cupcakes, cookies and bread), a soapmakers and even locally made wine. New vendors seem to come on board each year so it will be interesting to see what's new.
This year the market is offering Farmers Market Moolah….they are basically tokens that you can purchase with your debit carb or even your EBT/SNAP benefits card to be used on all the great veggies, fruits, eggs, meat, etc. Great for those days when you find more goodies to purchase and you run out of cash. An additional benefit is it might help encourage those who use EBT/SNAP to purchase healthy foods at the market. EVERYONE should have the opportunity to purchase deliciously fresh produce.
One my list of items to purchase: Kale, squash and whatever types of lettuce or salad have been brought to the market. I'm hoping that the meat guy has soup or oxtail bones available to make beef broth. Maybe some eggs and fresh cheese if the budget allows.
Looking for a farmers market near you? Then check out these links:
Edible South Shore: Farmer's Markets
Last year I was only able to visit a few local farms as well as the one local market. I didn't get a chance to hit up the different markets in different towns. A friend of mine, who goes often, gave me some tips:
– Bring your own bags. Some of the farmers may have plastic bags available but it's always better to recycle your own.
– Have small bills and some change. I don't just show up with a few $20's.
– Go early if you want the best selection.
– Go later if you want to pick up some good deals. No one wants to carry home fruits/veggies after they've been sitting outside all afternoon.
– If your buying meat, eggs, cheese, etc then keep a cooler and some ice packs in the car.
– Local farmers often grown veggies and fruits you don't normally see in the local grocery store. Ask the farmers about anything you don't recognize. They also can usually tell you how to cook or prepare the item too.
I plan on chatting up the local farmers so I can find out who will give deals on bulk purchases. Last year we canned a variety of jams, tomatoes, relish and salsa. This year I'd like to try making pickles for my 10 year old pickle queen….she would eat a jarful if I let her!
How about you? What are your favorite farmer's market purchases?