Family Sized Frittata with Linguica, Zuchinni and Cheese
Here's a delicious meal that takes next to no time to make. Time seems to be something which I've been running short on due to multiple midterm school projects. Five more weeks until this semester is over. I've got lots to write about and, for now, little time to do it.
Frittatas are basically scrambled eggs baked in the oven. They are made with protein rich eggs and just about any type of vegetable or cheese you have on hand. Once you've got the basic skill down you can play around with the filling and seasonings. Frittatas are a great low carb meal if you don't add potatoes or rice. Those who aren't watching their carb intake can add precooked potatoes or even left over rice. For this particular frittata I used what I already had in my refrigerator…..linguica, onions, zucchini and some Asiago cheese I got at the farmers market.
For those who have never heard of linguica it is a Portuguese pork sausage available in a mild or slightly spicier form. You may have heard of Emril Lagasse talk about it on his show. If your not one of the lucky ones and can't purchase it locally it can be bought online. You can also use other types of pork sausage in it's place but you will sadly be missing out on the delicious flavor of this sausage.

Family Sized Frittata with Linguica, Zuchinni and Cheese
Prep time:
Cook time:
Total time:
Ingredients
12 large eggs
½ onion, diced
6 to 8 ounces of linguica (or other type of sausage), diced
1 zucchini, cut into slices
cheese
olive oil
1 teaspoon dried basil
salt and pepper
Instructions
Start by setting your oven temperature to 400 F
Because the final baking is done in the oven please make sure the skillet or pan you are using has a heat proof handle. Perferably one made out of metal. Resin based handles will melt.
Start by adding a tablespoon or two of olive oil to your pan or skillet. If you've already diced and frozen some onions add in about ½ cup. If your using a fresh onion add 1 small diced onion to the pan. Sautee the onion for about 2 minutes.
Add in the linguica or other type of pork sausage. Cook for another 4 to 5 minutes.
I decided to search my refrigerator to see what other veggies I had on hand that could be added in. I found some grilled zucchini and added that to the pan.
Frittatas are a great way to use leftovers even if you have just a small amount available. Toss in your other veggies. Cook for another 1 to 2 minutes. Just long enough to allow the flavors to blend a bit.
While everything is cooking break the eggs into a large bowl and scramble them. The recipe calls for a dozen eggs but 8 eggs can easily be used to make a slightly smaller frittata.
Add in the basil, salt, peppers and cheese. Blend well and pour the mixture over the filling ingredients in the pan.
Gently stir the filling items around to even distribute them. Cook the eggs until they begin to set around the edges.
It should take about 1 to 2 minutes for that to happen. Once it does transfer the pan to the oven and bake 10 to 12 minutes or until the eggs are set and slightly puffed up.
Carefully remove the pan from the oven.
Here's a picture that shows how the eggs begin to pull away from the edge of the pan. The pan can now be transferred to the oven to finish baking.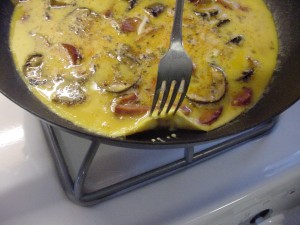 Here it is when it's done baking and the egg has set. Gently run a spatula around the edges to lossen them and then invert the pan over a large plate or platter.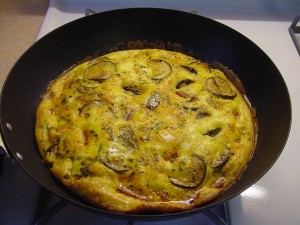 Once you can make a frittata it's easy to swap out ingredients. Try Italian sausage, spinch and feta. Broccoli, ham and cheddar cheese is another great combination. Tomatoes, basil and feta is a favorite too. If you have left over baked or sweet potatoes you can dice them and add it along with ham and cheddar. All equally delicious.
What type of fillings have you used in a frittata? Any unusual combinations that you weren't sure about but turned out great?