Recipe Redux – Cultured Butter and Lemon Blueberry Friendship Bread
You've probably seen the commercial. The one in which romance cover model Fabio tells us all about the wonderfully buttery taste of some imitation butter product and how it's suppose to be sooo much better for us then the real thing <inset eye roll here>. Just in case you don't remember the commercial, the wonders of YouTube can allow us all to see it again and again:
If you are reading this post in a reader then you might not be able to see the video above. Clicking through to the post should bring the video up.
I don't know about you, but a product filled with a vegetable oil blend (soybean oil, hydrogenated soybean oil, partially hydrogenated soybean oil and canola oil), water, sweet cream buttermilk, salt, natural soy lecithin, natural soy lecithin, vegetable mono and diglyceridess,potassium sorbate, calcium disodium EDTA,citric acid, natural and artificial flavoring, vitamin A (Palmitate) and beta carotene (for color) doesn't exactly just scream out buttery goodness. Actually, I really can believe it's not butter. It's not. Really, it isn't.
The minute that this month's Recipe Redux theme (Fermented Foods) was posted I knew exactly what I wanted to do. I'm not a big fan of many fermented foods such as sauerkraut and yogurt. I am however a huge fan of butter. Real butter. And, as if real butter couldn't get any better, it does when it's made into cultured butter!
If you've never made homemade butter before then your in for a treat. It's amazingly easy to do. While your at it why not make an Amish Lemon Blueberry Friendship Bread. Then you'll have two fermented treats to eat at the same time! While it only takes 24 hours to culture the cream for the butter it does take 10 days to create the bread starter. Watch for another post with the bread recipe to follow soon.
Cultured Butter
1 quart heavy cream
1/3 cup whole milk yogurt (the stuff that has live active cultures in it)
salt
I picked up a quart of heavy cream at the local whole sale club. For yogurt I went with a new one that recently showed up at the grocery store – Stoneyfield Whole Milk Cream Top. It had a thick layer of cream at the top. I'd tell you how it tasted compared to regular yogurt but I really dislike yogurt by itself. When my milk is sour and chunky I throw it out. I don't eat it for dessert LOL. Oddly I do like yogurt in baked goods, soups and other things where the sour flavor doesn't stand out.
* In a covered bowl combine the cream and the yogurt. Allow them to sit at room temperature for at least 24 hours. Going 36 hours won't hurt anything. The mixture should thicken up a bit.
* Place the bowl in the refrigerator to cool down before you begin whipping it. I forgot about the container being in my refrigerator and didn't get around to whipping the butter until two days later. It didn't seem to cause any problems to wait this long.
* Once the mixture has cooled begin whipping the cream on high speed. If you have a stand mixer it will be a big help. The instructions I had said to beat on high speed until stiff peaks formed, reduce speed and, once mixture breaks, turn off the mixer. Since I had no idea what breaking cream/butter looked like here's what happened:
The cream started to rise as it was being whipped on high speed. After several minutes soft peaks formed. Soon stiff peaks formed. Shortly after that the whipped cream seemed to deflate and the level in the mixing bowl dropped. I stopped the mixer and scrapped down the sides. After several minutes my oldest daughter, who was helping me, said the mixture was starting to look like scrambled eggs. She was right. It had become kind of yellowish and grainy. As we watched small amounts of liquid began to form around the edge of the mixture. I wasn't sure if this was the breaking so I shut off the mixture and poured it into a strainer. Under the strainer was a bowl to catch the buttermilk. SAVE your buttermilk to use in baking a batch of buttermilk pancakes!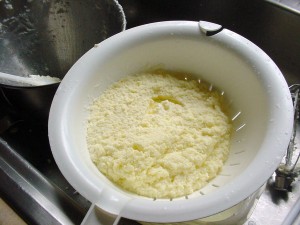 I put the grainy mixture back into the mixer bowl. Using a large spoon rub the mixture up against the side of the bowl. This seems to release the buttermilk. I was completely amazed at the amount that appeared after only doing this a half dozen times.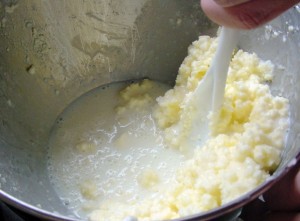 * Pour off the buttermilk into a container to save for baking and continue to rub until no additional buttermilk appears. Once this is done the butter now needs to be cleaned to remove any residual bits of buttermilk that might cause the butter to spoil. This is done but adding water to the bowl and rubbing it through the butter. At first the water will be a bit cloudy. Pour it off and add more clean water. After 2 or 3 times it should be clear. The butter is now clean.
* I like my butter lightly salted so I added a few pinches of sea salt to taste. Your butter is now done and ready to eat.
Was it really worth the extra time and effort to make something as simple as this yourself? Hell yes! Culturing the butter added a tangy depth to it that even the best organic, small farm butters don't have. It is truly something that I did not expect. It was so delicious that we stood around and made sure that every last morsel of butter was removed from the mixer bowl.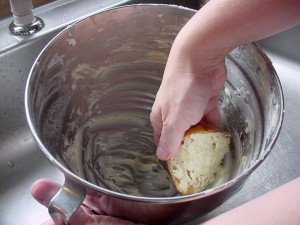 Heavenly!
Then we used it to top a slice of Amish Lemon Blueberry Bread (it seems more cake like to me) right after it came out of the oven.
Recipe for that tastey deliciousness will be posted shortly.
This recipe also shared with Real Food Wednesday.